Let's Draw Flowers!

Welcome to 'Shayda's Intro to Floral Illustration', the online course where we'll dive headfirst into the enchanting world of flowers and leaves with a touch of humor and a whole lot of creativity.
You know those moments when you're just staring at a flower, and you're like, "Wow, nature, you're showing off again!" Well, we're here to capture those "wow" moments with pens and paper.
I've always been that person who can't resist sketching a leaf or doodling a bloom on the back of a napkin (anyone else?), and I've turned that obsession into an art form. In this course, I'm going to spill all my secrets on how to make flowers and leaves come to life on paper.
We'll start from the absolute basics because, hey, even the greatest artists were once stick figure aficionados. I'll show you how to pick the perfect pens, create textures that'll make you want to reach out and touch your drawings, and add depth and dimension that'll make your botanicals pop.

But it's not all about being a serious art student here. We're going to have a blast experimenting, finding your unique artistic style, and even doodling! Whether you're an art wizard looking for new tricks or just someone who wants to bring a little more beauty to your journals, this course is for you.
As we journey through the course, we'll tackle all sorts of botanical beauties, from dainty dog roses to the queen, protea. You'll leave this course with a portfolio of stunning illustrations that'll make your friends go, "Wait, you did that?!"
So, if you're ready to unlock your creative superpowers and get up close and personal with the world of botanical illustration, grab your pens and join me! Can't wait to see your masterpieces!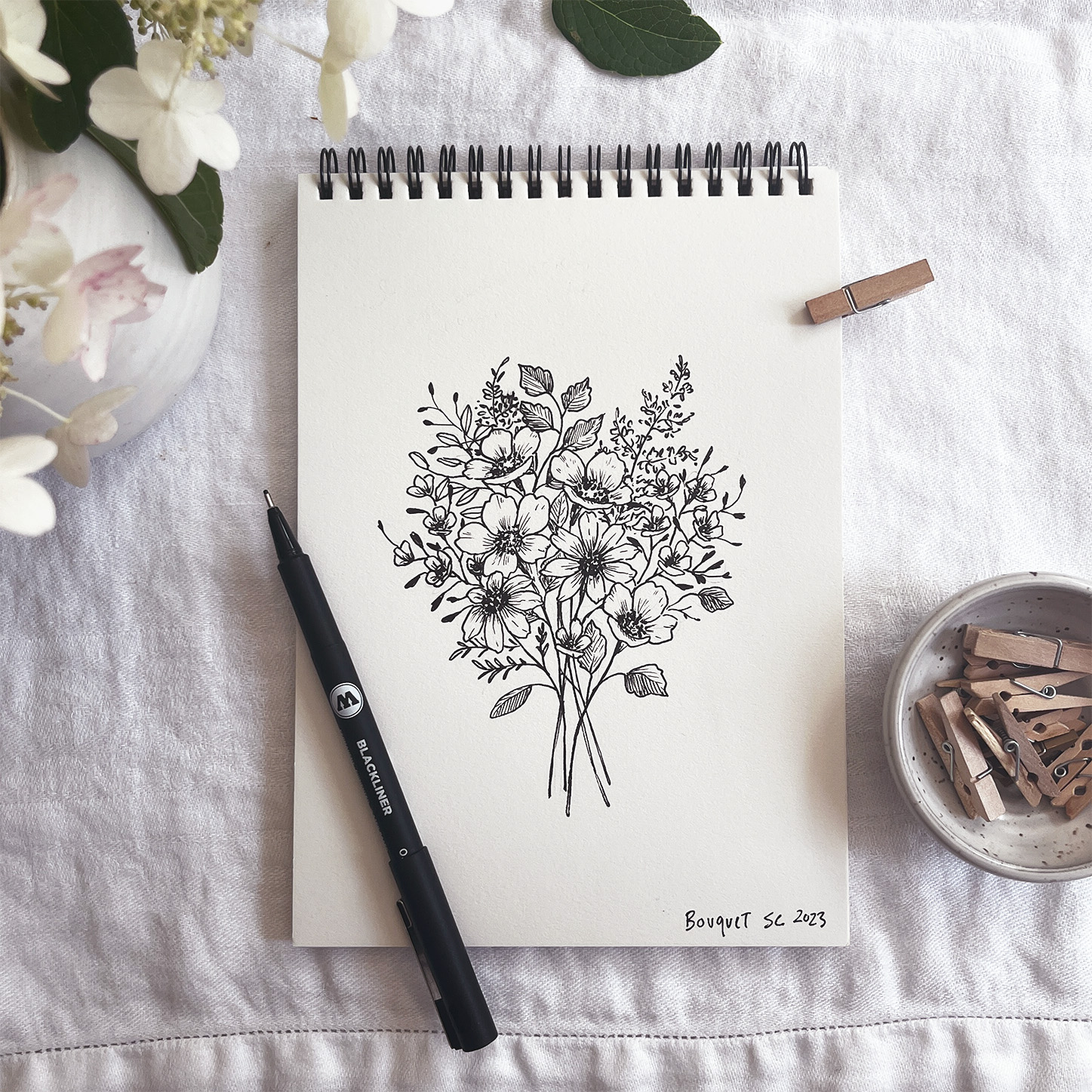 What You'll Draw

floral doodles
brush pen illustrations
compositions small and large
detailed pen and ink flowers
specifics like tulips, sunflowers, protea, bluebells and so many more!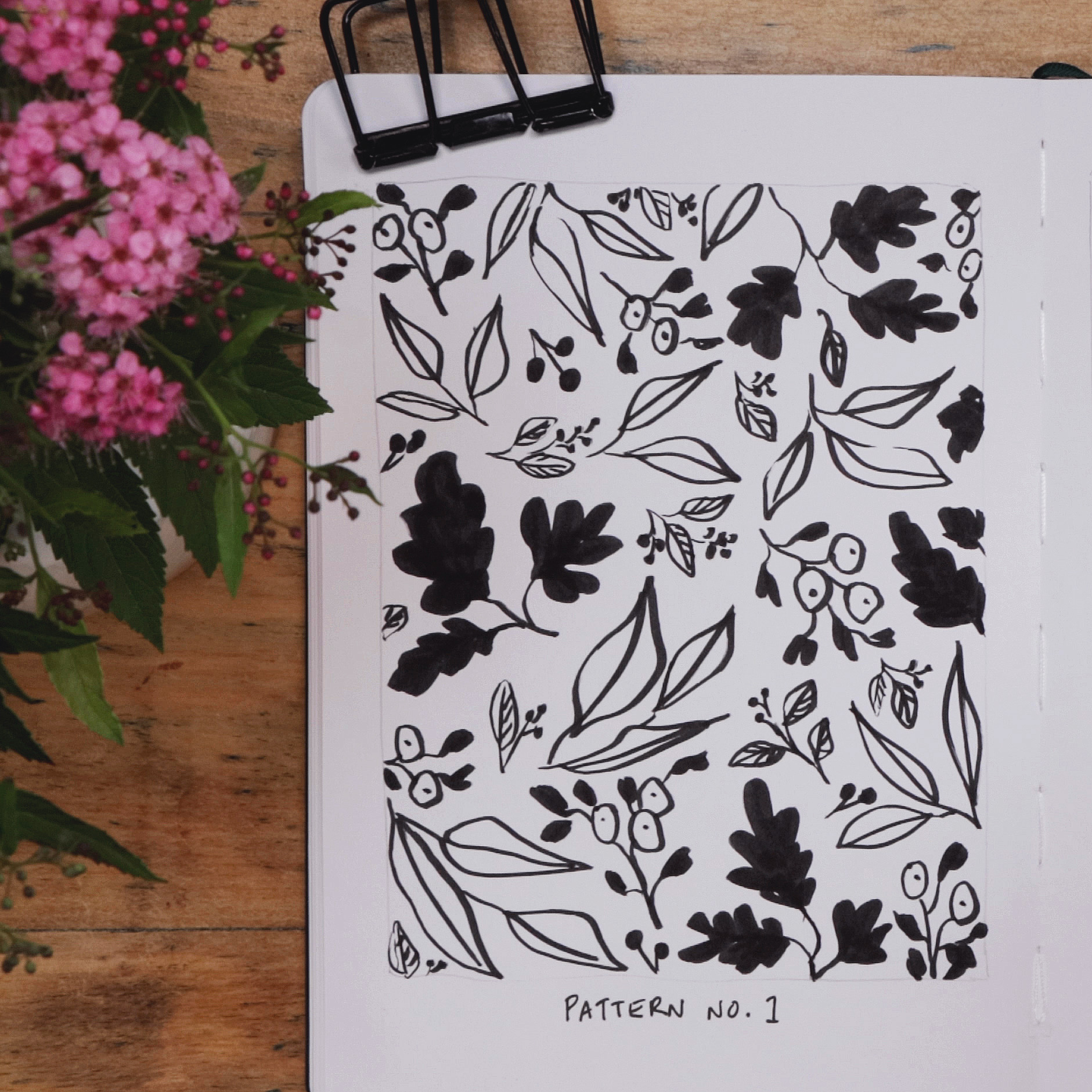 What You'll Practice

contour drawing
shading with pen
hatching and cross hatching
tracing and transferring
pattern play
brush pen technique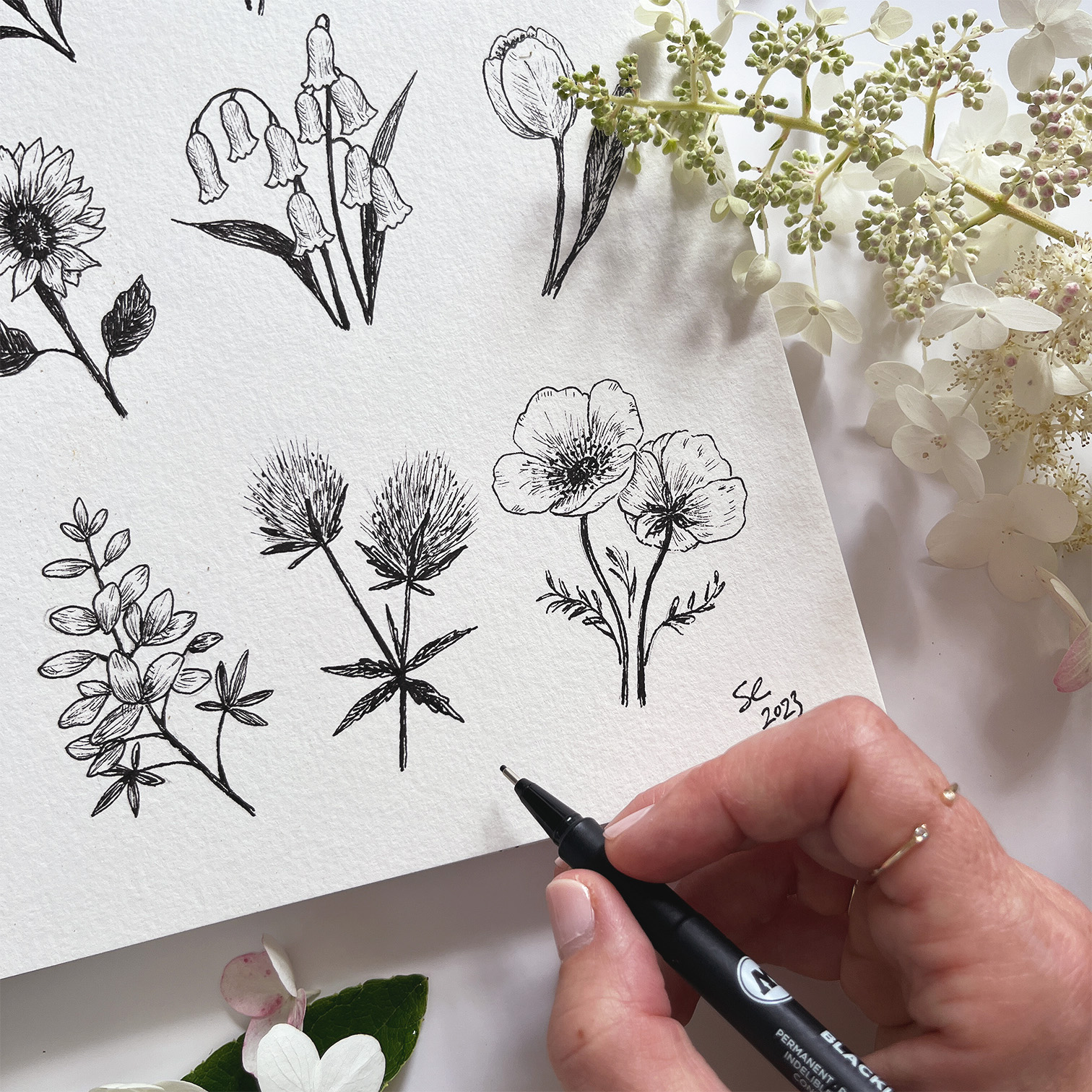 What You'll Learn

how to best use fineliners and brush pens
how to illustrate flowers with ease
how to draw natural looking petals and leaves
add line shading and cross hatching for a sense of depth
design beautiful and balanced floral compositions
hone in on your own unique style and find your confindence!
Course Curriculum
Module 1: Introduction
Meet the artist

Course overview

Supplies

The beauty of flowers and leaves
Module 2: Fundamentals Of Drawing
Contour drawing, creating a guide

Line shading & cross hatching

Depth and perspective

Leaf Practice

Petal Practice

Tracing and transferring
Module 3: Learn to Draw ANY Flower 
Drawing any flower, hosta, hydrangea, wax flower

Working from a photograph

Practicing what we've learned, morning glory
Module 4: Let's Draw Some Flowers!
Lily

Carnation

Sunflower

Icelandic Poppy

Bluebonnet

Bluebells

Thistle

Protea

Tulip



Module 5: Composition
How to Layout a Design

Corner, arch and line

Bouquet

Larger Illustration



Module 6: Brush Pen Basics
Starting out, Brush pen doodles

Three Ways to Draw a Rose

Pattern Play 
Module 7: Brush Pen Flowers
Geranium

Ranunculus

Calla Lily

Blue Lily / Agapanthus

Dahlia

Lotus

Yarrow

Anemone
Module 8: Finding Your Style and Finishing Up
Four journal illustrations

Final Project

Thank you and goodbye!